DESCRIPTION
The JONA Cardigan is an oversize cardigan, which is worked top down with increases along the knitted pieces. You start working the first side of the neckband and front piece and shape the drop down shoulders by working short rows.
The deep V-neck is shaped by increases, the slanted sleeves by decreases, which are first worked to the armhole openings.
You then pick up stitches for the second front piece as well as the back piece, which are worked to the armhole openings, too. You then place all tree pieces on the same needle to finish the body.
The sleeve stitches are picked up around the armhole openings and worked in round. Due to the top down technique, the cardigan's length can be easily adjusted to personal measurements.
All cuffs and the belt are worked with slipped stitches.
The instruction includes a detailed model sketch with all necessary measurements, a blank sketch for notes and alternative front bands.
Fit 1 2 3 wide
Difficulty 1 2 3 advanced
This pattern is available in english and german for €6.90 EUR (Ravelry)
You can find some photos of step 1-3 here JONA-Fotoalbum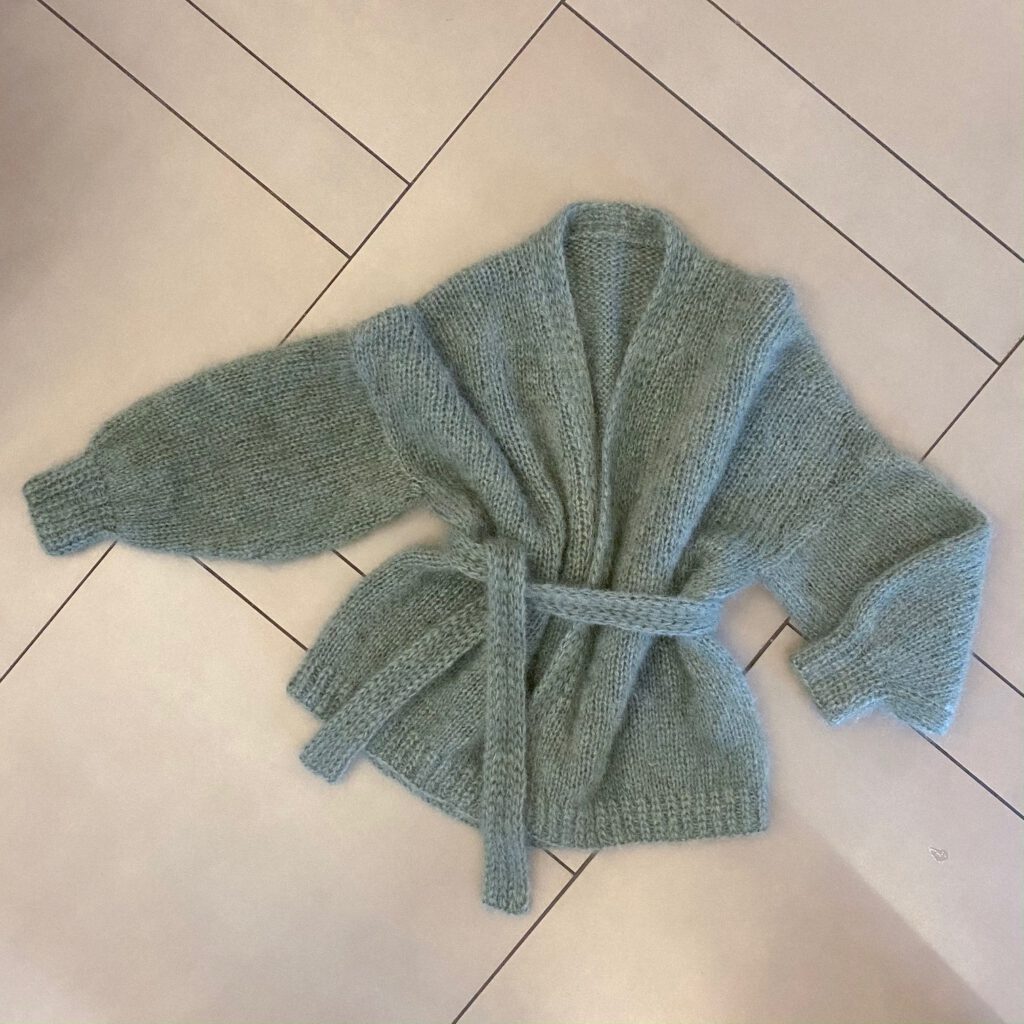 KNITTING TECHNIQUES
Backward loop cast on
Picking up stitches
Short rows
De- and increases
Slip stitches for selvedge stitches and at hems
Casting off stitch
For most of the techniques used here, you will find video recommendations at www.lotilda.de/stricktechniken
TIP: If you are not familiar with any of the techniques used here, practice on a small piece of knitting, which saves you from annoying unravelling the model.
GAUGE AND PATTERN
NOTE: Steps 1 – 4 are worked in rows, from step 5 on in rounds. As the knit stitches are often worked slightly tighter as the purl stitches, a smaller needle size than the main needle size is used for the ws-rows in order to achieve an even stitch pattern in rows and rounds.
4threads of yarn; choose the right needle size:
Basic pattern (stockinette stitch): 11 stitches x 14 rows = 10 x 10 cm
With needle 8 mm for ws-rows and 9 mm for rs-rows (k on rs, p on ws)
With needle 9 mm for rounds (k all stitches)
hem-cuffs with needle 7 mm: 11 stitches x 23 rows = 10 x 10 cm
sleeve-cuffs with needle 6 mm: 15 stitches x 25 rounds = 10 x 10 cm
SIZES / MEASUREMENTS
XS (32/34) | S (36/38) | M (40/42) | L (44/46) | XL (48/50) | XXL (52/54)
Bust measurements: 74-82 (82-90) 90-98 (98-107) 107-119 (119-131) cm
The model is 164 cm tall and wears size M (green cardigan) and size S (brown cardigan) with a bust measurements of 85cm.
Rear width: 59 (63) 68 (72) 78 (84) cm
Complete length incl. neckband and hem: 73 (74) 75 (76) 78 (80) cm
You can find detailed measurements in the model sketch in appendix 1
You can use the blank model sketch in appendix 2 for notes and conversions
All details in this instruction mean sizes XS (S) M (L) XL (XXL)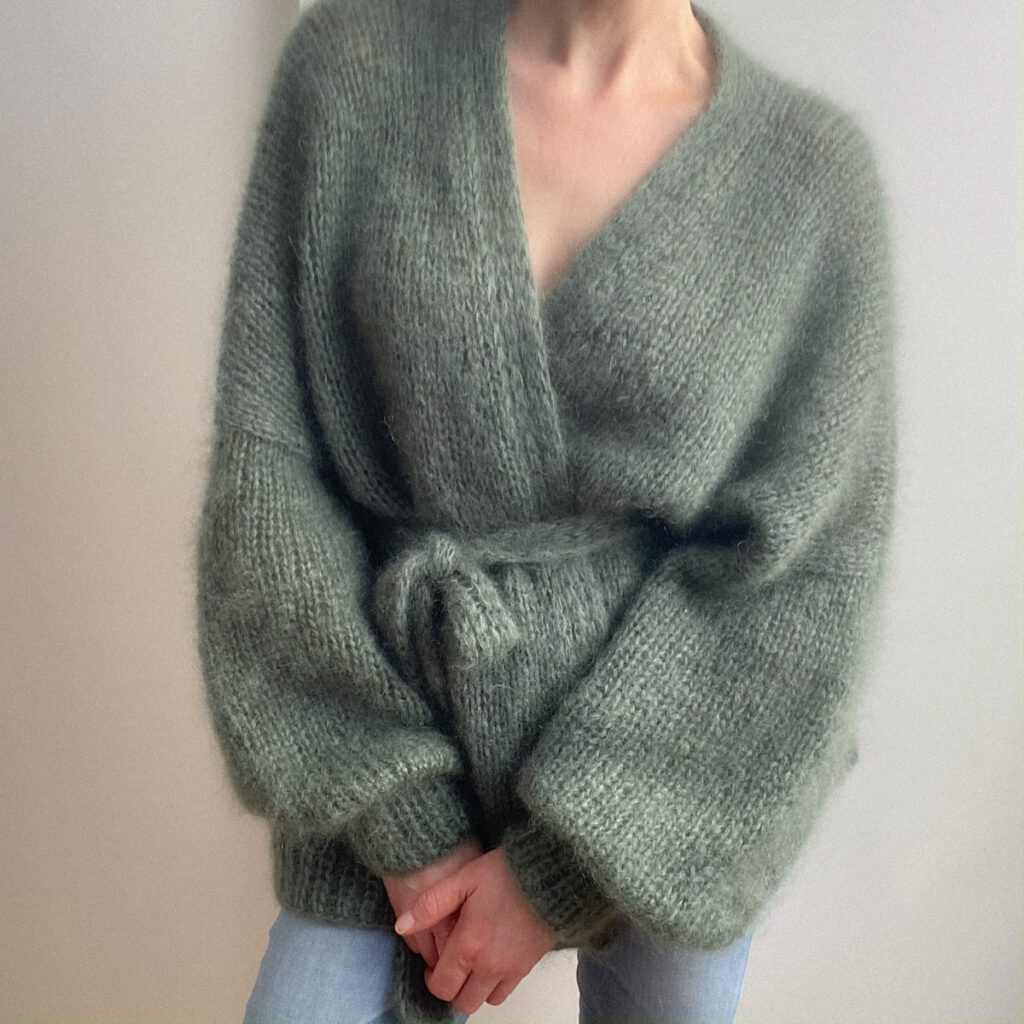 WOOL
Lana Grossa "Silkhair" (70% mohair (superkid), 30% silk), approx. 210m/25g
The green Jona cardigan is knitted in color 127 "moosgrün".
The brown Jona cardigan is knitted in color 115 "goldbraun".
Note: The model is worked with 4 threads of yarn. At the beginning, you can work with 4 skeins. You than have to use the thread from the edge and from the middle. For sizes S and an uneven number of skeins is indicated and therefore the last skein must either be wound or an additional skein must be planned for 4-thread knitting.
Weight of wool converted to 1 m when working with 4 threads: 0,48 g/m
CARDIGAN:
XS: 300 g (12 skeins, 2.520 m)
S: 325 g (13 skeins, 2.730 m)
M 350 g (14 skeins, 2.940 m)
L: 375 g (15 skeins, 3.150 m)
XL: 400 g (16 skeins, 3.360 m)
XXL: 450 g (18 skeins, 3.780 m)
BELT (optional):
26 (27) 28 (30) 32 (34) g

ALTERNATIVE YARNS
(with similar length)
Kid Silk Haze from Rowan (70 % mohair, 30 % silk, 210m/25g)
Tilia from Filcolana (70% kid-mohair, 30% silk, 210m/25g)
Brushed Lace from Mohair By Canard (72% kidmohair, 28% silk, 210m/25g)
Tynn Silk Mohair from Sandnes Garn (57% kidmohair, 15% wool and 28% silk, 212m/25g)

Silk Mohair from Isager Yarn (75 % super kid mohair, 25 % silk, 212/25g)
RECOMMENDED NEEDLES
Circular needles 8 mm and 9 mm, 60 – 80 cm long for basic pattern
Circular needle 7 mm, 60 – 80 cm long for hem pattern and backward loop cast on and stitch pickup
Additionally for the sleeves either
Circular needles 9 mm, 40 cm long (e.g. short needle tips 10 cm long from Chiaogoo as screw system up to needle size 9 mm possible and 20 cm long cable/ as circular needle from Addi or KnitPro

Circular needles 6 mm with long cable (80-100 cm) for Magic Loop method or Double-pointed needles 6 mm
Tip for tight knitters: When working in the round and using needles with a screw system; it is practical and much more convenient to use a smaller needle on the left-hand needle. The stitches then slide off the needle more easily.
SUPPLIES
4 large stitch markers for the needle
2 stitch markers for hanging
extra cables or waste yarn for held stitches
tapestry needle
This pattern is available in english and german for €6.90 EUR (Ravelry)