DESCRIPTION
The hip-length oversize cardigan with front bands in garter stitch is worked top down. The diagonal fit at the shoulders is shaped by increases along the shoulder lines. Left front, back piece and finally right front are worked separately to the armhole openings and thereafter placed on the same needle to finish the body.
The sleeve stitches are picked up around the armhole openings and worked in round. The long sleeves and tight cuffs create the desired balloon effect. All cuffs are worked with slipped stitches.
This pattern is available in english and german for €5.90 EUR  (Ravelry)
KNITTING TECHNIQUES
Cast on/off stitches
Knit/ purl
M1L/ M1R in rs-rows and ws-rows
Short rows
Decreases
Slip stitches
Magic Loop method
SIZES
All measurements between the | | are sizes S | M | L | XL
S (34/36) | M (38/40) | L (42/44) | XL (46)
Bust circumference 100 | 112 | 120 | 128 cm
Length 57| 59| 61| 63 cm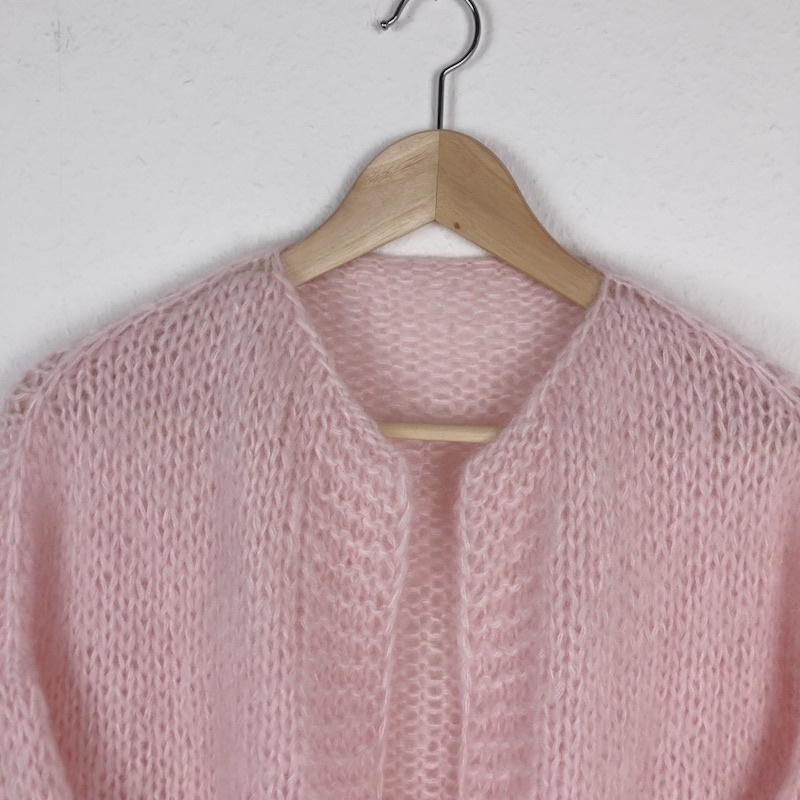 PATTERN
Basic pattern: stockinette stitch (k
st in rs-rows, p st in ws-rows)
Front band pattern: garter stitch (k st in rs-rows and ws-rows; always slip the 1st st purlwise wyif; last st is always a k st)
GAUGE
4 threads Silk Mohair on needle 10 mm (or the needle size you need for obtaining the correct gauge)
10 x 10 cm = 9 sts x 12 rows in basic pattern
RECOMMENDED NEEDLES
Circular needle 7 mm (for cast on), 8 mm (for 1st row)
long (13 cm) circular needle 9 and 10 mm (with 80 cm cable)
short (10 cm) circular needle 10 mm (with 20 cm (S|M) and 35 cm (L|XL) cable for sleeves)
the tighter cuffs can be worked with Magic Loop method on circular needle 9 mm
SUPPLIES
6 stitch marker
extra cables or waste yarn for held stitches
tapestry needle
WOOL
Sandnes Garn "Silk Mohair" (60 % mohair, 25 % silk, 15 % wool): 280m/50g, UVP 14,95 €, colour 3511 "Powder pink "
AMOUNT OF YARN
size S | M | L | XL
300 g (1.680 m)| 350 g (1.960 m) | 400 g (2.240 m) | 450 g 2.520 m)
price in € 89,70 | 104,65 | 119,60 | 134,55
Note: The following table shows the actual amount of yarn incl. a 10% addition for deviations. The model is worked with 4 threads of yarn. At the beginning, you can work with 4 skeins. You than have to use the thread from the edge and from the middle. For sizes M and L an uneven number of skeins is indicated and therefore the last skein must either be wound or an additional skein must be planned for 4-thread knitting.
When using 25 g skeins, this note does not apply!
This pattern is available in english and german for €5.90 EUR  (Ravelry)